Launching AskNeo for MSPs and eCom Agencies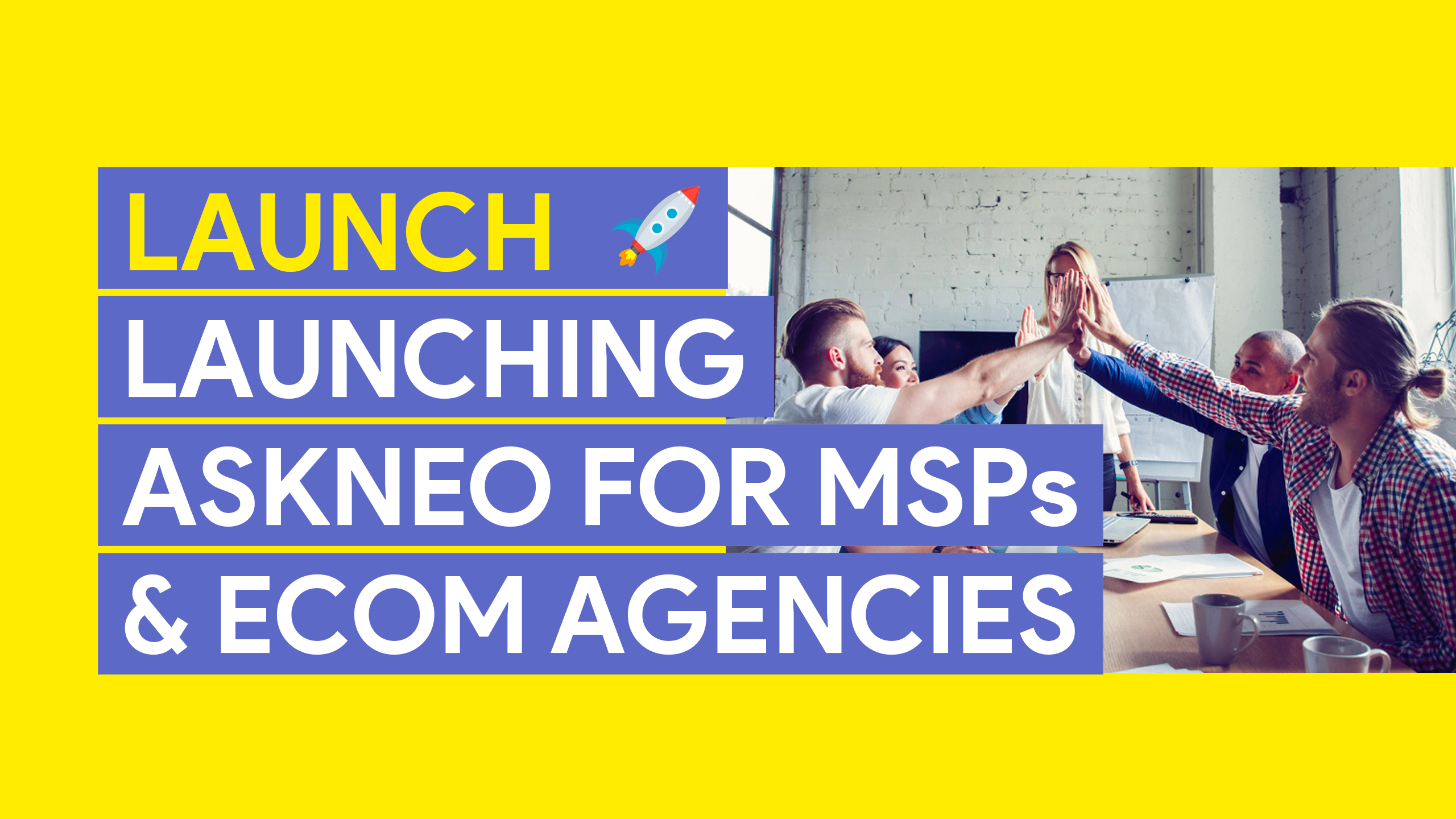 You asked for it, we built it!
Today we're super excited to launch a series of exceptional features aimed towards MSPs (Managed Service Providers). This update will help MSPs personalize thousands of customer conversations across hundreds of AskNeo accounts.
We developed these features by working closely with agencies and freelancers who provide services to consumer brands such as:
• building eCommerce websites
• managing online stores
• working in sales and marketing
• ensuring customer support and success
• maintaining IT services
Here are the 5 new AskNeo features that will help thousands of MSPs personalize customer experience through texting:
1. Multi-Account Management
• What: switch seamlessly between different AskNeo accounts in the web dashboard, iOS and Android apps across all devices and browsers.
• Who: perfect for agencies and freelancers who work with tens or hundreds of clients on a day-to-day basis.
• Why: save time and become more efficient.
• How: use the same email across all AskNeo accounts you are a part of. Click on your name in the top right corner and a drop-down menu will appear with all your accounts. If you are not an Admin, ask the Admin to invite you to their account. More on that in the next feature below.
2. Multi-Staff Collaboration
• What: collaborate on customer conversations with an unlimited number of team members thanks to the updated AskNeo shared inbox.
• Who: perfect for large teams with different roles or departments such as sales, marketing and customer success.
• Why: One conversation thread corresponds to one customer, so all staff and departments can finally stop working in silos and ensure continuity by simply replying to customers in the thread.
• How: go to the "Staff" tab to invite team members to join your AskNeo account. Go to the "Feed" tab and hover or click on a conversation to "Assign" a conversation to a teammate. The team member names appear below each corresponding reply in the conversation thread so large teams can track which department and/or staff responded to the customer.
3. Call Forwarding
• What: forward customer calls from your AskNeo texting number towards a phone number of your choice, landline or cellphone.
• Who: perfect for MSPs and consumer brands who need to maintain a phone number to receive phone calls.
• Why: Instead of displaying or communicating two different phone numbers, one for texting and one for calling, brands can now show a single phone number, so customers can simply text or call the number provided by AskNeo, so they don't miss out on any potential customer and increase sales conversions.
• How: after signing up for AskNeo and purchasing your first recharge, text "FORWARD" to let us know which number you'd like us to forward calls to, and make sure you're logged into your AskNeo account when you do so. Connect and text "FORWARD" for each AskNeo account independently. You can forward calls from an unlimited number of AskNeo accounts. You can do it towards a single phone number or various numbers.
4. Better Integrations
• What: integrate with thousands of software systems including CRMs, POSs, and clienteling systems, such as Shopify, Hubspot, or Shipstation.
• Who & Why: perfect for agencies and freelancers who enjoy leveraging automations and want to synchronize their tech stack, like sending SMS messages automatically for cart abandonment in Shopify, reminders on appointments, and millions of other possibilities to save time and get more repeat customers.
• How: go to the "Integrations" tab to leverage Zapier or text "API" to (917) 451-5515.
5. Shared Revenue
• What: get up to 20% of the revenue you bring via the clients you bring you AskNeo, regardless of whom manages the account.
• Who & Why: perfect for both agencies and freelancers who hate spamming and get excited at the idea of building true and authentic relationships with customers, and want to complement their income.
• How: go to the "Share" tab and use your unique link to sign up new clients and track their expenses. Learn more by texting "AMBA" to (917) 451-5515.