Launching the AskNeo Certification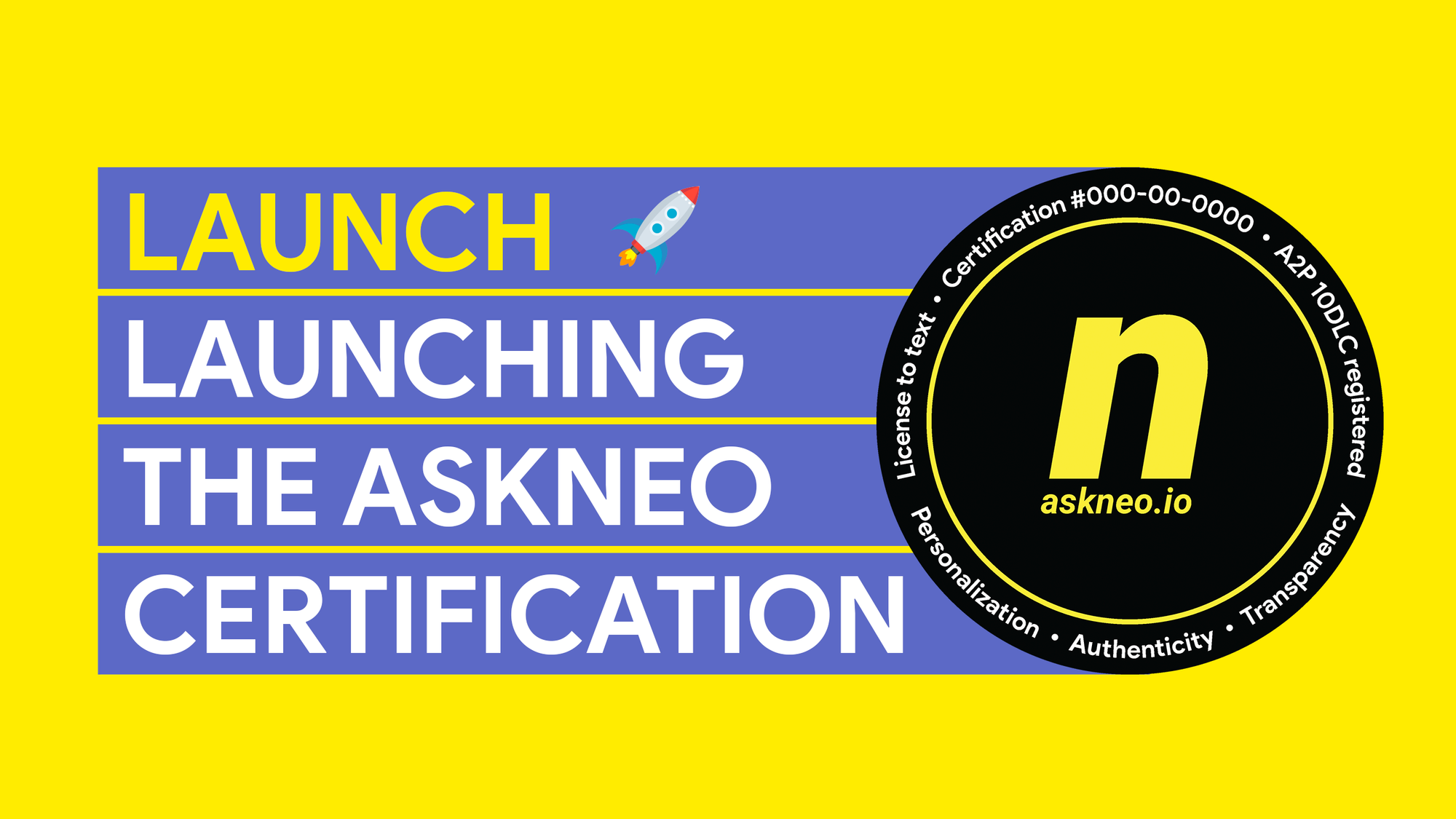 Too much spam. Too much noise. Too much BS.
That's why we decided to launch the AskNeo Certification: a list of 10 requirements that will guarantee the highest standards of customer engagement for both brands and consumers who want to text with each other.
Managed Service Providers (MSP) that use AskNeo on behalf of their clients and direct AskNeo customers can "both" obtain the certification. Once a company is certified, it can text customers with the following benefits:
SMS Broadcast uncapped from 3,000 receivers per day to up to 100,000 receivers per day.
Registration on the national phone carrier safe list, also called A2P 10DLC, to maximize deliverability up to 100%.
Speed control, to dynamically regulate the distribution pace of a mass text according to each carrier requirement and avoid any message loss.
Anti-spam filter, to avoid getting blacklisted by national or international phone carriers.
Automated opt-in via the brand avatar or SMS chatbot, which saves the customers' name and phone number automatically.
Automated opt-out, via the keywords "Stop", "Cancel" and "Unsubscribe".
Real-time deliverability receipts each text with a check mark when delivered or a red exclamation point if not able to deliver.
Report on deliverability after each mass text to know exactly what percentage of messages was properly delivered, sent to a landline, to an offline device, or an obsolete number.
The AskNeo Certification is the most advanced SMS certification on the market and is completely free of charge. Here are the ten commandments of AskNeo to follow in order to obtain and keep the certification:
Never spam
Make sure your audience opts in to receive your texts
Segment your audience with Tags to broadcast mass texts by Tag(s)
Answer in a reasonable amount of time, preferably within a few hours
Always have the customer's best interest
Be upfront about your pricing and fees
Never trick the customer into buying a product they don't really want
Be transparent about ingredients and/or components in use
Always be polite, even when someone is not
Go above and beyond to make each and every customer happy
The AskNeo Certification takes anywhere from 2 hours up to 7 days to be obtained. Here are the 5 steps to complete the process:
Create your AskNeo account by texting "NEO" to (917) 451-5515
Text "CERTIFY" to (917) 451-5515 to access the AskNeo courses
Complete the AskNeo training consisting of a series of videos, podcasts and articles
Book your virtual interview –both video and sound need to be activated
Complete the AskNeo Certification form, sent after the interview
If you are ready to make a difference and want to personalize your marketing and sales engagement at scale, text "NEO" to (917) 451-5515 to get started!