7 Reasons Why Mental Health Practices Rely on AskNeo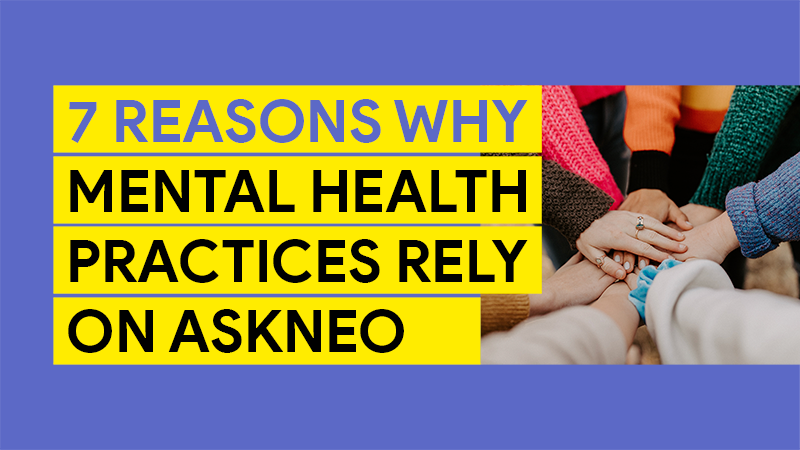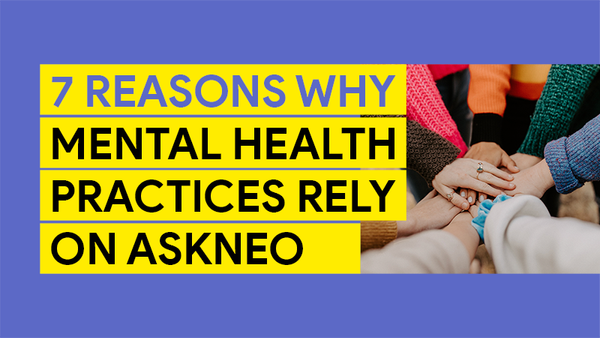 Every day, thousands of people rely on AskNeo to provide and receive mental health relief via texting. AskNeo quickly became the preferred solution for mental health institutions such as IOPs (Intensive Outpatient Programs), PHPs (Partial Hospitalization programs) and other addiction and therapy professionals because of these 7 reasons:
• Simplicity: AskNeo is the most simple way to interact with patients because it is the first no-code solution for mental health organizations. All communication between patients and staff occurs through text messaging. Psychologists, psychiatrists, administrative staff, front desk staff, part-time and full-time therapists get access to a simple dashboard to collaborate in real time in a simple shared inbox.  Any personnel can connect and get started within minutes, without any training or onboarding necessary. They simply connect on their phone or computer to contribute to the conversation with a given patient.
• Speed: AskNeo is the fastest way to communicate between patients and mental health organizations. Real-time communication can only happen through channels that already exist on the patient side. Two-way texting is the fastest communication channel. Patients receive a push notification on their phone when a new text message is received, and staff get notifications on the AskNeo app or the desktop version when a patient texts them.
• Personalization: AskNeo was designed to help staff personalize interactions with patients and build a personal relationship. Personalization is crucial in making patients feel valued. Personalizing interactions with patients improves the chances of success in treatment programs. Staff have the possibility to personalize a mass text thanks to dynamic fields such as the first and last name of the patient. Tags and other customization tools help therapists and admin staff segment their database and keep track of thousands of patients as granularly as possible.
• Efficiency: AskNeo is the most efficient way to deal with thousands of patients at scale without losing quality. The solution was designed to help therapists and administrative staff quickly send group text messages and individual SMS to patients. Communications include reminders about group sessions, updates about one-to-one meetings, informations about prescriptions, replies to patient questions, and a quick way to reschedule appointments. To increase efficiency even more, AskNeo includes thousands of integrations.
• Continuity: AskNeo provides perfect continuity between different mental health personnel. By unifying all the communications between a patient and the mental health institution into a shared inbox, AskNeo helps build a continuous history so precious to ensure the patient full recovery. On the professional dashboard, one patient corresponds to one conversation thread. Business continuity is key for PHPs, IOPs and all mental health organizations. When a staff leaves the organization, or simply goes on vacation, another staff can immediately take over a given patient conversation and avoid any hiccups in the program.
• Privacy: AskNeo helps mental health professionals be compliant at all times. Mental health institutions can send text messages that include internet links, photos, URLs, addresses, calendar links, and other multi-media elements that are crucial to the success of every patient recovery. Data remains private at all times, and AskNeo even includes automated opt-in and opt-out with every account. The patient-doctor relationship is based on trust, and trust starts with keeping patient data private.
• Accessibility: AskNeo is the most accessible platform on both the patient and personnel sides. Patients do not need a smartphone nor any internet connection. They do not need to install any app or connect to any dashboard. Any phone can send and receive SMS. If a patient has some visual and/or auditory impairment, text message is often the best way to communicate. For example, SMS can be read or dictated if one cannot see. When it comes to different languages, SMS can be easily translated to another language. A patient who doesn't speak the language provided in the SMS can take the time to translate the message received and the response they want to provide.
If you are a mental health professional and would like to provide the best monitoring and/or aftercare to your patients, text "NEO" to (917) 451-5515 to get your demo and free trial!